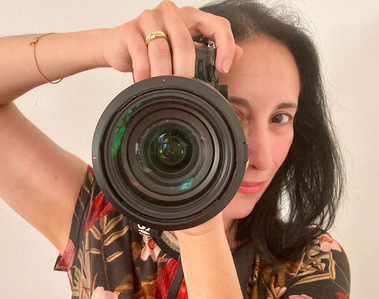 Lydia Bergida - born 1972 near Tel Aviv, lives in Munich.
She is particularly interested in photographic projects in which she illuminates different levels and perspectives of social and everyday life, focusing on the importance of humanistic and democratic values.
Lydia Bergida - geboren 1972 bei Tel Aviv, lebt in München. Ihr besonderes Interesse gilt fotografischen Projekten, in denen sie verschiedene Ebenen und Perspektiven des sozialen und alltäglichen Lebens beleuchtet und dabei die Wichtigkeit von humanistischen und demokratischen Werten in den Fokus rückt.
Exhibitions
"Brundibár" - Istituto Italiano Munich, Giornata della Memoria 27. Januar 2023

"Judn ohne Wiesn", Pappenheim, Festjahr "1700 Jahre Jüdisches Leben in Deutschland", 2021
"Juden, Trachten und Brauchtum", Kulturforum West, Pasing, 2021
"Jüdische Geschichten aus München und Oberbayern", Group exhibition, Israelitische Kultusgemeinde München, 2021
"Judn ohne Wiesn", Jüdisches Museum München, 2020
"Das Urteil" - Performance von "Die Czaks", Online Ausstellung, Europäische Janusz Korczak Akademie e.V., 2020
"My Space" - Photodocumentary School project with refugee children, Brodt Foundation, München 2016
"500 Jahre Ghetto Venedig" - Theatre performance, Schrannenhalle, Europäische Janusz Korczak Akademie München 2016
"Brundibár" children's opera, European Janusz Korczak Academy Munich, 2015